Muay Thai In Phuket
"Why Not Try Thailands National Sport During Your Holiday"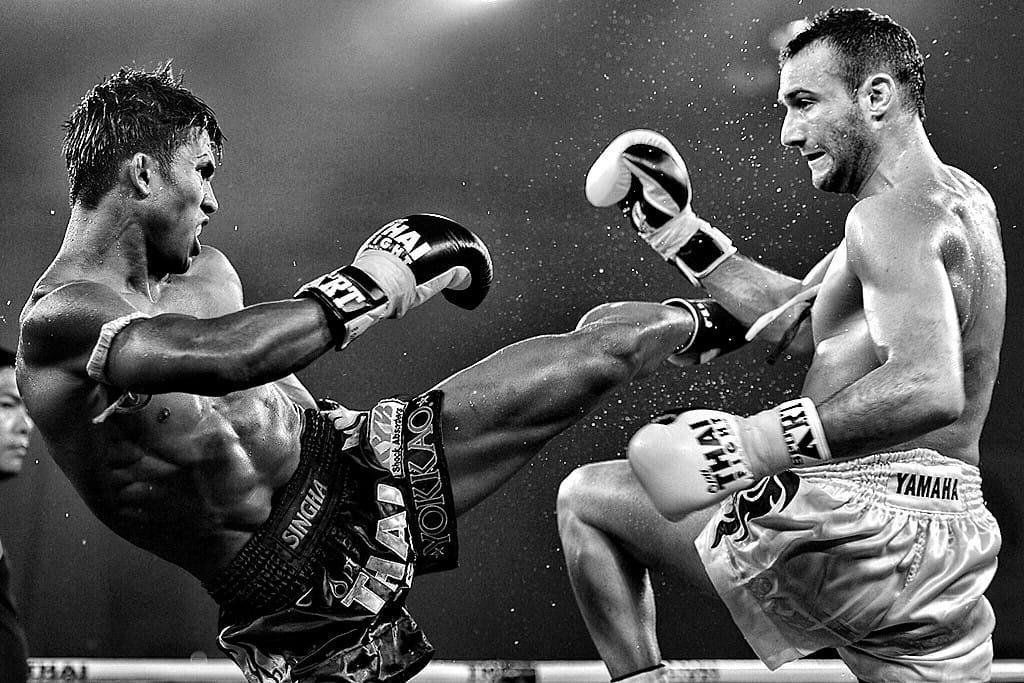 Muay Thai In Phuket
So your thinking about doing some Muay Thai in Phuket? Well, you certainly come to the right place, also known as Thai Boxing, Muay Thai is Thailands national sport. It's hugely popular amongst the local people and there is even a stadium here in Rawai. The origins of Muay Thai stemmed from the battlefield, it was the fighting art taught to all Thai soldiers in ancient times. Back then it was called Muay Boran, now it's globally recognized sport and style of choice for many UFC fighters. It's a great way to have some fun, get fit and learn a little self-defence at the same time.
There are a lot of benefits to Muay Thai and luckily there are some very good and reputable Muay Thai gyms close to our Luxury Villas. There is a lot of famous Muay Thai gyms in Phuket that you can visit for the day, all gyms do 2 classes a day. The classes are suited to all levels, including absolute beginners and a drop-in class is only around 500THB per person. The session will be around 1.5 to 2 hours, you learn that basic movements and strikes and then you will do 5 rounds on the bag and then 5 rounds 1on1 with a Thai trainer doing pad work.
Nearby Muay Thai Gyms
There are quite a few Muay Thai Gyms in Phuket and most are location in the south side of the island where our Villas are. I will list some below in order of most recommended and closet to the villas. If you have any questions about them or would like to hire our driver to take you there and back. Contact us and we will arrange everything.
Sinbi Muay Thai
The first recommendation would be Sinbi Muay Thai. It's only a few KM's up the road and was one of the first Muay Thai Gyms in Phuket to open its doors and cater to foreigners. It has a very friendly atmosphere with very experienced trainers. They just move to a new facility in Rawai so all the equipment is shiny new, they even have a new weights gym area below.
Asia Muay Thai
Asia Muay Thai is a much smaller gym, more run-down, local rocky balboa style gym. Has 2 rings and 4 trainers that a still actively fighting and is located by Phuket Fit in Yanui Area. Not far from Ya Nui beach. If you prefer a Muay Thai gym with fewer people and more local feel then this is definitely the place to go.
Kinga Muay Thai
Kinga Muay Thai is the newer gym in Rawai… Well, it's kinda new in the sense it did a full refurbishment of the old Rawai Muay Thai gym that used to be there. Rawai Muay Thai used to be the most famous gym on the island before it moved to Khaolak. Kinga Muay Thai are the new owners of its facility and did a good job fixing it up. It's quite a big gym, bigger the Sinbi Muay Thai and caters a lot more towards Chinese students. But of cause can teach people of any nationality.